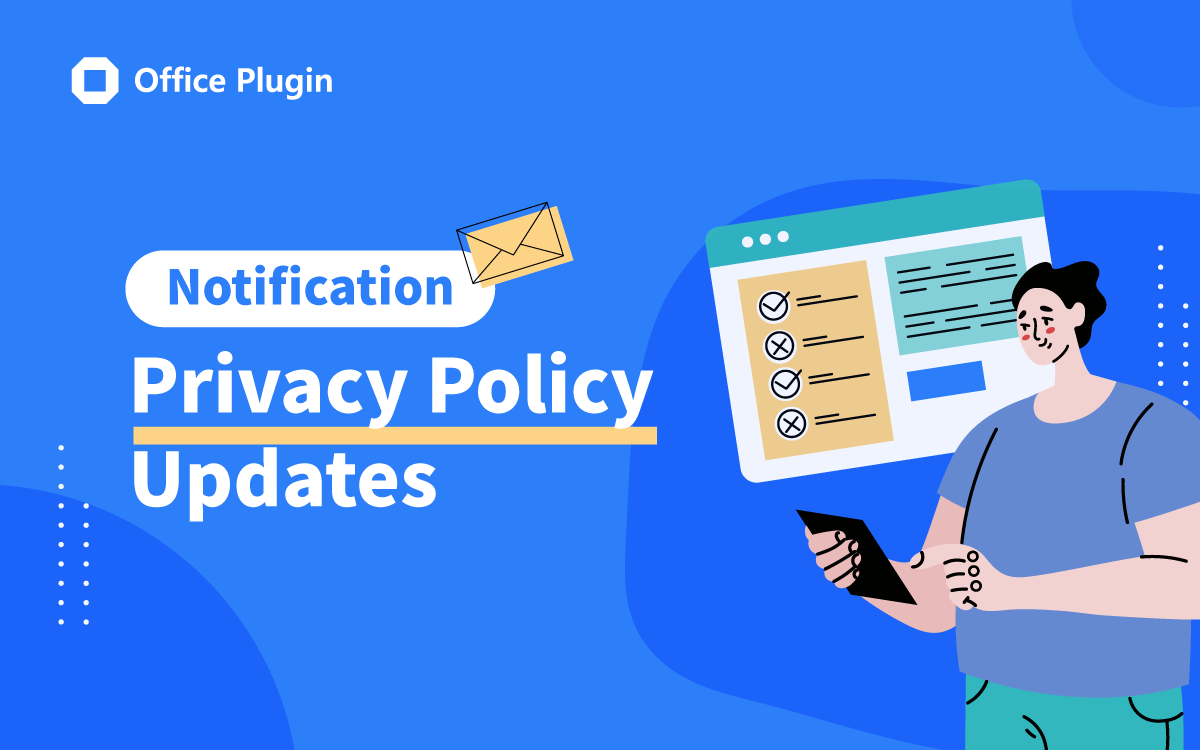 We've updated our Privacy Policy.
Please read our Privacy Policy carefully to get a clear understanding of how we collect, use, disclose, protect, and otherwise handle information about you. The link below will take you to the full text of the updated documents, but we've also summarized the most important changes for you below.
→ Please click the Privacy Policy to read the full text.

You don't need to do anything to accept these changes - they'll automatically become effective from December 15th, 2021. If you aren't willing to accept these updates, you must delete your account.
Take a look at what's changing:
1) Added third-party disclosure of collected information
• We provide collected information to Office Plugin's distributor (e-glue Cloud) in Korea only for following up sales leads and marketing, advertising, promotions, or other similar purposes.
2) Added Prohibited Conduct
You agree that you will not use Office Plugin services to:
• Upload any Content that is unlawful, harmful, threatening, abusive, harassing, tortious, defamatory, vulgar, obscene, pornographic, libelous, invasive of privacy or publicity rights, hateful, or racially, sexually, ethnically, or otherwise objectionable.
• Upload any content that contains software viruses, worms, trojan horses, time bombs, trap doors or any other computer code, files or programs or repetitive requests for information designed to interrupt, destroy or limit the functionality of any computer software or hardware or telecommunications equipment or to diminish the quality of, interfere with the performance of, or impair the functionality of the Services or Office Plugin.
You also agree that Office Plugin may delete the contents above without notice.
Thank you for being an Office Plugin user, and we're happy to continue helping you manage and protect your identity online, If you have any questions, please contact us.
Thanks for using Office Plugin.
Office Plugin Team
Please also note that Free features will be limited from December 15th, 2021!