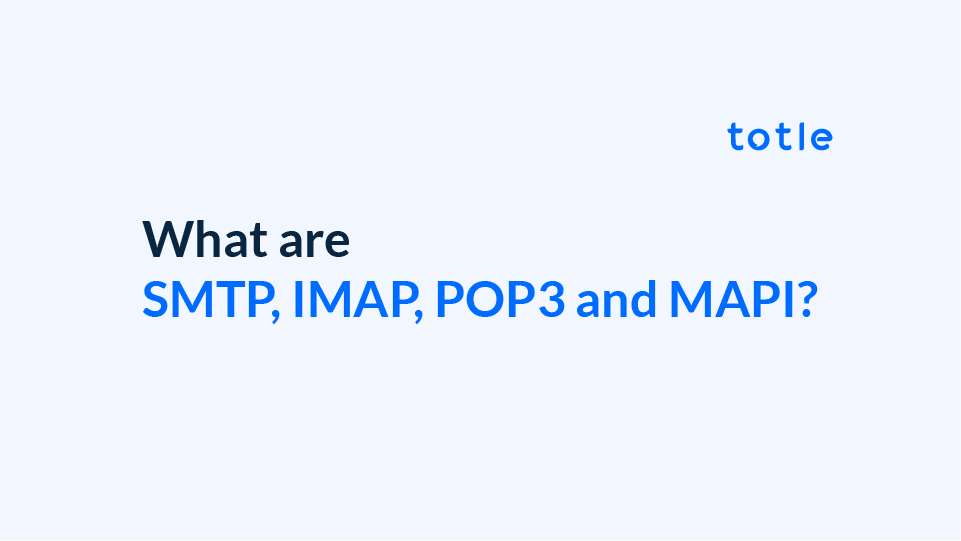 ---
What are SMTP, IMAP, POP3 and MAPI?


Understanding email protocols!
SMTP, IMAP, POP3 and MAPI
Today we can send and receive emails thanks to SMTP, POP3 and IMAP, the three primary email protocols.
Whether you use a company domain as your business email address or a free email service such as Gmail or Naver, sending and receiving emails may be more complicated than you think.
In this post, we will learn about some of the most popular email protocols that are used today.
SMTP (Simple Mail Transfer Protocol)
The Simple Mail Transfer Protocol or SMTP, is a standard communication protocol for sending emails over the internet. It enables email clients to send or forward messages to incoming servers. Sender can similarly instruct the SMTP server to send an email.
IMAP (Internet Message Access Protocol)
The Internet Message Access Protocol or IMAP, is a client/server protocol that reads emails or messages from a mail server or service. IMAP manages emails on the mail server and facilitates email reception and retrieval, except sending. Most IMAPs support multiple logins, allowing users to simultaneously check their emails by connecting from multiple devices.
Supprts simultaneous access to the same email account from multiple devices
Rapid and efficient support for access
Allows multiple users to share a single mailbox
You can create folders and sub-folders to organize your email on the server

Supports email functions like search and sorting
Combination of SMTP and IMAP
Since IMAP only supports email reception, it is typically used together with SMTP to allow email clients to send and recive messages.

For instance, email clients use SMTP to send email messages to a mail server and forward the email to the recipient's mail server in order to support mobile email applications. When SMTP forwards the email to the recipient's mail server, the recipient's email client retrieves the message using protocols like POP3 and IMAP and displays it in the recipient's inbox.
What is POP3?
The Post Office Protocol 3 or POP3, is a one-way client-server protocol for receiving and archiving email on a mail server. This protocol is also used to retrieve emails. POP is limited to a single PC, and emails are not synced in real-time. Instead once an email is downloaded, you can determine the download frequency of new emails.
POP3 is suitable for users who need offline access to their email from asingle computer.

IMAP is reccomended when you wish to access your email on multiple devices.
What is Exchange Server (MAPI)?
*totle does not support this protocol!
MAPI stands for Messaging Application Programming Interface.
MAPI is a Microsoft protocol that enables Outlook email clients to utilize all Microsoft Exchange Server functions, including email, shared contacts, calendars, and public folders.
When outlook is configured as a MAPI client, also known as an Exchange client, your emails are stored on Comcast's secure mail servers in the cloud, with a local copy on your computer. You can access the messages stored in the cloud through webmail from any internet-connected computer. MAPI enables the transfer of messages fron the cloud to a local computer file.